That's right: The day has finally come! Designer officially has its very first book on the market, thanks to J.P. Terry at SmartDoc Technologies.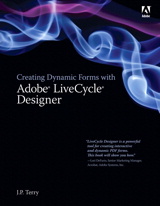 The book is the result of J.P.'s own expertise and a collaborative effort with the Designer Team in Ottawa. It tackles form design and techniques in building dynamic XML-based PDF forms with Designer.
As Alan Siegel (Founder & Chairman of Siegel+Gale, branding pioneer and champion of simplifying corporate communications) put it,
"J.P. Terry is a rare individual who understands both the design and technical issues involved with effective communications. This book will teach you about LiveCycle Designer but more importantly it will teach you about effective form design."
How to get the book
The book is now available for immediate ordering at the following sites
as well as at various local bookstores.
For some reason, it's still on "pre-order" status at Amazon.com but should be "officially" available shortly.
The Designer book will also be available for purchase at MAX 2007 and I will be giving away a copy or two at my hands-on sessions on Designing PDF Forms and Flex-based Form Guides so be sure to attend if you're at MAX 2007 North America!
Sample Files Posted
For those of you who already have the book, you can now download the sample files from SmartDocTech.com.
---
Posted by Stefan Cameron on August 30th, 2007
Filed under
Books
,
Designer
,
Instance Manager
,
Scripting
,
Tables
,
Tutorials
Both comments and pings are currently closed.
---